Photo of Cherry La Voix for tsurufoto nudiezine issue no. 7 by me! WOOT!
Ah summer.  Hot, humid, sticky, sweaty sweaty swamp ass, bar-b-ques, shaken lemonade, fried snickers, fried dough, fried coca-cola, and even fried kool-aid.
Jazz fest, rib fest, community fest, asian fest, greek fest, indian fest, pride fest, fest fest. We get about 80 years on this earth, plus or minus, and we do the same shit 80 times, plus or minus.  Summer is my least favourite season, if you could rank them.  As a Floridian from Tampa, summer started in February and ended the day before February, car was hot, you were hot, house was hot, AC was never good enough, humidity sucks, and dear god…. the swamp ass.
Is there anything worse than that wet uncomfortableness lingering between your ass cheeks?  Only thing I know to combat it is a good quick dry wipe in the bathroom.
Anywhosals, the one good thing about summer?  The music…. Yes, as much as it's silly & cliche, our funny little brains like to assign seasonality to music.  Give it a clean quiet sound and you got yerself a winter album there, bud.  Me, I'm an autumn.
Just kidding, I'm pale, I've got black hair, and green eyes, maybe I'm a winter? I do want to retire to Canada.
Where was I? Oh yeah, seasonality of music.  Now, there's no hard and fast rules, one man's Spring gem is another mother of your baby's brother's Autumn classic.  We are nothing but a culmination of our genetics mixed with our experiences & how we interpret them.  For me, a bit of fuzz, a bit of bounce or rain or a bit of water & heat, basically, whatever makes me think of being outdoors or conversely, indoors in the AC, or, I suppose, swamp ass…
So here we go, one of our first ever "summer" specific mixtapes (I think, who the fuck can remember anymore).  Led off by Dan Deacon's "Snookered"… why? Because when I think of swamp ass, I think of Dan fucking Deacon!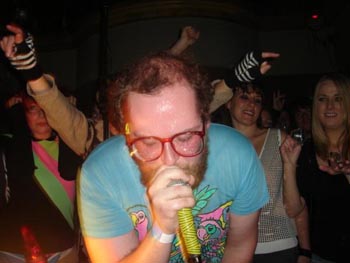 My suggestion?  Just click play on the soundcloud below and turn up yer speakers nice and fuck yeah.  If you like what you hear, grab the zip and enjoy on your way to the beach, to the park, or on that road trip, or really whatever you do this summer!  Sound good?  Happy summer, my friends!  Enjoy!
(full zip)
tsururadio presents – summer mixtape by tsururadio
FOR THE LOVE OF GOD, PLAY GAPLESS!!!!!!!!!!!!!!!!!!!!!
01 Dan Deacon – Snookered
02 MGMT – Kids
03 Cults – Outside
04 Girls – Laura
05 G. Love And Special Sauce – Cold Beverages
06 Beck – Girl
07 Tapes N Tapes – FREAK OUT
08 Weezer – Holiday
09 My Morning Jacket – Circuital
10 The Avalanches – Since I Left You
11 The Shivers – Irrational Love
12 The Strokes – Is This It
13 Beirut – East Harlem
14 She And Him – Oh Boy
15 Summer Fiction – By The Sea
16 Laura Veirs – Saltbreakers
17 Iron And Wine – Biting Your Tail
18 Starfucker – Born
19 Jonathan Richman – Ice Cream Man
20 The Beach Boys – Barbara Ann
That's it! Enjoy! Now…. go ride your bike, go take some pictures, and go have fun!
Cheers,
Aaron