So, according to the intertubal highways of cyber love canals, the holiest of holy indie bands, our beloved Arcade Fire, won a grammy the other night. Considering our little blog started out way back in lard knows when as an avenue to share leaked Arcade Fire songs when the music board I was on banned links to music, I'd gander to say our work here is done…
Grammys are stupid, yes. Nothing more than an industry's self-congratulatory circle-jerkery.
Why anybody gives two-shits who wins one of those awards or any of those industry awards for that matter — none of you seem to give even a half-a-shit about who won car insurance salesperson of 2010, do you? — is beyond me.
What's doubly mind-confabulating is why any of the indie-kids, you know the music bloggers, the kids aware of Neutal Milk Hotel, their twitter followers and followees, would also care… and if twitter is any indication, they care alot.
The play-by-play & commentary was non-stop.
Do you reeeeally care if Christine Aguliboogili sang or said or wore or whatever anything? Lady Poopypants came dressed as a spoiled cadbury egg. So what?
When I asked on the twitters your basic "huh? why?", I was told it was about pop culture. Though, really, if the grammys are your pop culture fix, I really recommend you check out the internet. It's got you covered oh-so-much more than some awards show.
I was told you gotta take the good *and* the bad. I did once, it was called the Facts Of Life.

btw… I totally had crushes on Jo & Tutti
But, even without the leadership of Ms. Garrett, don't we already take the good and the bad everyday when we see Black Eyes Peas shit all over the super bowl? When we just keep giving money and publicity and money and publicity to all these vapid & manufactured "pop stars" all over the TV & internets? After spending the year avoiding as much of that crap as possible, why do I have to endure a pure multi-hour orgasm of it to know it exists?
I was also told it was to see Matt Bellamy. I don't know who that is, but I bet money over miracles I can find some youtube videos of him.
Look… I'm no idiot. I know I'm in the minority. Lots of people watched it & will watch it again next year & care. Lots of people put some kind of emotional weight into whether or not the "artists" they like win a trophy.
O.M.4.G, like, Justin Beiber was thiiiiiis close to joining the ranks of…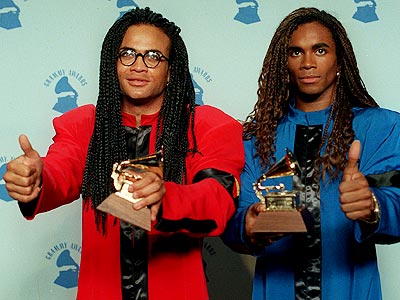 Milli Vanilli

Black Eyed Peas

Puff Daddy

Baha Men

and even All-4-one.
Yep… Baha Men
and All-4-One.
And now indie's very own Arcade Fire, shown below in their least pretentious PR photo.
I don't know what's more interesting. The excitement the indie-kids had that their band was nominated? The annoyance they had when suddenly all of "those people" knew of Arcade Fire's existence? Or the arrogant gleeful amusement over the mainstream's ignorance.
You can't have your cake, take a shit on it, and then eat it too! Well, I guess you could, probably go viral if you filmed it.
*shrug*
So, anyways, we've seen a few indie-albums hit number 1 here and there, but considering how few albums are sold these days, I really don't take that as an indie-barometer of current mainstream penetration. Nope, looks like crapfests like the grammys is all we got and Arcade Fire is the Jackie Robinson of indie music.
You broke into the big leagues, baby, and now everyone from pee-paw in the recliner to the mom in mom jeans at the local grocery store knows of your existence.
Congratulations!
So yeah… I guess this means my work here is done. We music bloggerin' types can step aside and let the real press take on the indiefication of mainstream music. Next up, Arcade Fire & The National (I mean, they ARE often compared to each other) will be signed to Major Label outfits and fill an arena or two. The influx, like the massive signings that took place after Nirvana "changed music", of indies-gone-mainstream are about to begin.
Well, until the major labels finally go bankrupt, that is.
What else is there for me? An odd little music bloggerin' fool (music blogger #442,210) jibber-jabberin' about unknown band #2,554,210 has no place in the future muisc world.
I guess we did it, my friends. We won. We made it. Woot.
.
.
.
.
.
.
.
.
So… what happens now?