Illustration by Grafista!
Happy New Years Eve, happy Friday, happy end of another fun & exciting year in music land!  Down in our beloved society, we have been hard at work ranking our favourite albums of 2010.  On Wednesday we listed off the 197 — holy shit — nominees but it's today we announce who came out the cream o' the top, the creme de la creme, and any other dairy-inspired phrases you can think of!
Yes, yes… applause, indeed.
First, the low-down, the skinny, the 9-1-1, the what-what on how this whole thing goes… Each member list their top albums of 2010, from their we assign point values to the top ten of each list, 1 point for #10, 2 for #9, and so on to 10 points for #1.  Now… this tends to lead to occasion ties, so to break the ties, we assigned a fraction to each ranking as well!  1/10 point for #10, 1/9 for #9 and so on to 1 point for #1.  That way, albums with stronger showings in lists got a bump compared to the ones that popped in lower on a few.  Is it a perfect system?  Fuck if I care!  It's fun and you get a mixtape out of it, right?  So, let's hop to it shall we?
WE SHALL!!!!!!!!!!!!!!!!!!!!!!!
The TSURURADIO Community Presents…
Our Society's 21 Collective Most Awesomest Albums Of 2010!!!
Why 21 and not, say, 20 or 25? Because that's how many fit on the mixtape!
Duh.
Okay, first up… our one and only tie as they got the exact same rackings!
.
.

TIE: 20 & 21.
Avi Buffalo – Avi Buffalo
Laura Veirs – July Flame
Points: 20.4
Yes! It makes me very happy to see Veirs make it into the list!  Very missed record by so many people this year, in my humble opine.   Of course, Avi Buffalo makes it too, which makes sense cuz that's one tight album!  Yay!
.
.

19. Gorillaz – Plastic Beach
Points: 20.5
Okay, not the biggest fan of this one, but even I have to admit it's a pretty fun album on re-review. I could care less about that iPad whatever they just released — hey Gorillaz, you know people have actually recorded albums on nothing more than a cassette tape recorder? But this here is a proper album that's got Lou Reed and cartoons on it, or at least that what Lou Reed sees (his brains has GOT to be fried by now).
.
.

18. Yeasayer – Odd Blood
Points: 22.5
Confession… I completely missed this on my personal list. Bummer. Re-visiting it this week, it's an amazing album! C'est la vee as the Franconians say. Amazingly melodic yet quirky beauty. So glad the board picked up where I slacked off!!!
.
.

17. Menomena – Mines
Points: 23.1
Ah, yes… another quirk team! Great album. Probably their most straight-forward album, slunk its way right on our chart at No. 17! Good show Mee No Mee Nuh!

16. The Walkmen – Lisbon
Points: 23.6
Mmmm…. always a beautiful album when these guys are in the house. In many ways, it's much of the same with The Walkmen, yet, with them… that's a really good thing. Is that kind of a cop-out blurb? Yeah, but you know, it's fucking Walkmen!
.
.

15. Frightened Rabbit – The Winter Of Mixed Drinks
Points: 25.1
Proving with their album title that stereotypes are meant to be challenged, Frightened Rabbit frightened away old man winter with a healthy mix of awesome! Okay okay, yes, that was total cheese. This is my 2nd count down post, YOU come up with a million quips! ha!
.
.

14. New Pornographers – Together
Points: 27.2
*Happy sigh*
Love this album, easily the most beautiful album art of the year to boot! Orchestral power pop harmony happy happy good times as AC, Neko, Dan, and the crew chock up another collection of near perfect gems that stretch, man-handle, reshape, fondle, and basically redefine the concept of "pop music".
.
.

13. Cloud Cult – Light Chasers
Points: 27.6
YAY!!!! My number No. 1 is our No. 13? WOOT! This album's getting no love anywhere except in TSURULAND! Their loss mother bitches! Chase the light, seek happiness, and have some mother-fuckin' fun ya mother-truckin' mother-bitches!!!
.
.

12. Sufjan Stevens – The Age Of Adz
Points: 28.4
Number 12, eh? Hey, I looooooooooooooooooooooooved "I Walked" but apparently the rest of the crew loved the rest too! Good for them! I'll say it once and again and again. There are no wrong answers in music, you love what you love and everyone else can love what they love too! Everybody wins…. Now, where's my auto-tune machine?
.
.

11. The Black Keys – Brothers
Points: 28.6
I've got soul but I'm not a soldier. Sweet groovin' album by the Black Keys is like saying Vin Chaud is hot. Of COURSE it's hot, so's this.
.
.

10. Angus & Julia Stone – Down The Way
Points: 29.3
Our dark horse! Angus & Julia are not a plate of steak and potatoes, they are a lovely duet that words like "grace" and "beauty" are thrown at… and rightfully so. A beautiful beautiful album.
.
.

9. Big Boi – Sir Lucious Leftfoot: The Son Of Chico Dusty
Points: 29.6
Honestly, never evened listened to this one. I think this is one half of Outkast, right? I liked that song "Rooster", I think way back. But hey, our community's got a penchant for the hippity-hoppity musics, fuck yeah! Time for me to get skooled, I'm s'posin'!
.
.

8. LCD Soundsystem – This Is Happening
Points: 30.2
Ooo… Squeaking out Big Boiiiiiiiiiiiiiiiiiii is L-C-Deeeeeeeeeeeeeeeee! I dug this album, quirky dance sumfin sumfin, reminded me of Talking Heads and not at all like Talking Heads at the same time. Nice pick!
.
.

7. Broken Bells – Broken Bells
Points: 31.8
Number 7… got one word for you, "smoooth". Perfect chill album. The end.
.
.

6. Tallest Man On Earth – The Wild Hunt
Points: 38.2
Conversely, there's nothing chill about the angst-voice harsh-and-young-version of Bob Dylan with the Tallest Man On Earth. At times, difficult to listen to, but the reward for making it through his stark songs is there. Obviously. It DID get 38.2 points!
.
Alright, my friends, time for the top 5! You ready???? At 46.1 points………….. #5 belongs to…
.
.
.
.
.

5. Deerhunter – Halcyon Digest
Points: 46.1
Sweet! Love this album, trippy mammer-jammer. Goes everywhere, like a trippy time through a weird b-movie, balancing noise, melody, and nostalgia… and I love it!
.
.
.
.
.

4. Kanye West – My Beautiful Dark Twisted Fantasy
Points: 67.5
What do you know. Kanye made it, eh? Well, love him or hate him, you are bound to talk about him. We did, you probably did, P4K obviously did. The crew in the Society apparently loved him and who am I to fight it? It's a big bold endeavour by Kanye, in fact, in his head, it's the biggest endeavour of any artist of all time. But……
.
.
.
.
.

3. Beach House – Teen Dream
Points: 90.7
SNAPS!!!!
Suck it Kanye! Beach House's dream wave kicked yer ass by nearly 30 points! Ouch! Kick 'em when they're up, kick 'em when they're down! But even vintage photographs converted to songs could beat out our big dogs.
Yep, #2 goes to………….
.
.
.
.
.
.
.
.
.
.

2. Arcade Fire – The Suburbs
Points: 136.3
The Suburbs. What can you say? It resonated. It's a beautiful album kickin' every suburbanite right in the balls. But even an album that speaks of white-people's problems (like deed restrictions and what colour to paint your mailbox) could beat our number one.
Have you figured it out yet? No?
Well, here we go then! The winner is……………….
.
.
.
.
.
.
.
.
.
.
.
.
.
With! A WHOPPING 150.2 points!!!!
.
.
.
.
.
.
.
.
.
.
.
.
.
None other than……………………………….
.
.
.
.
.
.
.
.
.
.
.
.
.
.
.
.
.
.
.
.
.
.
.
.
.
.
1. The National – High Violet
Points: 150.2
BLAMO! Flat monotone delivery plus bombastic beauty overwhelmed the folks in the society! And can you blame them? It's a wonderful album. From the first time I really loved "Bloodbuzz Ohio" on that road trip up to Canada and since, it's been one of those "go-to" albums you keep in your back pocket. Really wonderful.
Alright!  How much fun was that???  How about another round of applause for, not just the albums, but the good folks down in the Society!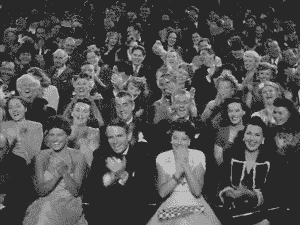 Great job everyone! Can't wait to see what 2011 brings, but don't worry, we ain't done yet!! Oh no no no… we ain't over yet, my friends!  We still got the Accompanying Mixtape part to do!
BUT.
It comes with a catch, but that catch comes with a contest, so maybe you'll be cool with it?  You see, lots of those albums up there are actually Major Label albums and, well, I feel like our last mixtape (especially since I learned that Iron & Wine is now major label?? Say WHAAAA????) was already on the ris-que side. So, today's mixtape is going to be a fun little adventure.  It's below but I'm NOT giving you the tracklisting!
Double-say WHAAAAAAAAAAAAAAAA?
Yep.  You need to listen to it blind.  Here's the catch to that catch, if you write down the tracklisting, and then put that tracklisting in the comments down below.  THEN, we'll draw a name from the hat of everyone who got the tracklist correct and that person gets TSURUFOTO NUDIEZINE absolutely FREE!!!  WHICH, by the way, is now being carried locally at Wholly Craft!

Zine by TSURUFOTO!!!  I'm like the Hugh Hefner of ZINES!!!
Not bad, eh?  No shipping, no nothing!  Free!  All you have to do is listen, comment the playlist, and wait!  Not bad at all.
The TSURURADIO Community Presents…
PUSH PLAY!!!
Cheers, good luck, happy new year, and here's to a wonderfully fun & exciting year to come!!!
Love,
The TSURURADIO Community