Okay….  We are way overdue to settle a little matter once and for all.
Yesterday good friend, fellow music blogger, and pimp / video director / marketing mastermind for the band The Pass, Zach over at We Listen For You released upon the world (and by world, I mean the blog and, consequently, the twitters) the new music video for The Pass called Vultures, which we featured yesterday as A) he's a friend and B) the video is awesome in two respects, 1) house party, yay! and 2) it features 38 references to various music blogs in the bloggy blogosphericals!
So far, so good, right?
Well… mostly.  You see… well actually, before we go further, quick related side note.
I'm often asked by people going into bloggerin' for advice on "how to be a successful blogger", the first thing I usually tell them is to NOT name your site something that people can neither spell or pronounce.   Yeah, yeah, it's unique, whoop-dee-fucking-doo.  Hooray for you, you made a new thinger.
English 101: S's come BEFORE T's, when a word goes "Ts.." people have no idea what to do.  This means that, outside a little word o' mouth from people who have stumbled upon us via Hype Machine or Elbows or, now, Shuffler, the only other way to get here was by searching for Tennessee State University radio and accidentally coming here — man, you Tennesseers must've been coooorn-fused!
But… I expect more from my friends, more from my nose, but not more from my friend's nose — which I do enjoy picking.  So, you can imagine my excitement to see "my reference" in the Pass video and, when my .027 seconds of viral fame came up, I saw this:
T-U-R-S-U-RADIO… right at the 0:47 second mark.  See for yourself:
Ouch.
Now, Zach and the boys are giving away real genuine moneys to whoever can name the 38 music site references in the video, $50 smackers to Insound plus The Pass CD, and as awesome as that is, this whole enlightening and traumatizing experience inspired me to do my very own contest.
YAY!
Here's how it goes………  All you have to do is send in a Fan Sign photo!  Yep, a photo of you, or your boobs, or someone, or something, or you neighbor's dog, or… well, you get the idea, holding up some sorta fan sign with "TSURURADIO" in it AND SPELLED CORRECTLY!!!  Kinda like what Drew is doing up there at the top of this post.  You have until FRIDAY SEPTEMBER 17th to enter by sending the photo (or hell, the video? why not?) to tsururadio (at) gmail (dot) com.
Then, we'll pick our favourite and the winner will win…………………………….
WOOOOOOOT!!  Right out of my pocket and into yours!  So…. between ol' Zach & myself, that's a chance to win $80!!!   Not too shabby.  Can we get an applause?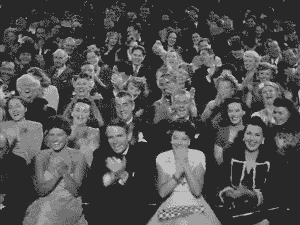 Thank you.
So, get photographizin'!!!!   BUT, before you run off to grab yer cameras, how about we check in on the intertubal interconnections of love potatos and see what's going on out there in music land.  That's right, my friends, it's time once again for………
TSURULOOSIES!!!!!!!!!!!!!!!!!!!!!!
Man, TSURURADIO (that's T-S-U-R-U-R-A-D-I-O) is the gift that keeps on giving today!   Looks like a lot has changed in hot & hyped land since our last tsuruloosie post, so lets check in and see what's what.  As always, I rate songs out of a possible 5 wheelies!!!  Let's pull up our front wheels and hop to it!
Just learned this is the guy from Gnarls Barkley.  No kidding, eh? Nice song! Outside the fuck angle, it's really just a sweet fun retro-goodness song. And I like that. here's the vid that's been floating around.
Cotton Jones – Somehow Keep It Going
I thought I did this one already?  Not sure.  Dark, atmospheric, bad ass.
Dead Confederate – Run From The Gun
Hot damn! 3 for 3 so far!!! Viddy for this one too!
Dominant Legs – About My Girls
Hmm… taking me back to the 80s-ish.  Not too shabby.  Something old, something new!  I'm in!
Meh.  Not my cup o' tea.  Sounds….. played.
Hey, I remember this!  Still hot?  Nice… I still like it too!
Ra Ra Riot… makes me want to go jog!  That's not a bad thing, but I rather be on my bike! Duh.
Yes, the "fuck" trend is getting old, wonder if they are regretting that name yet?  Oh well.  Song?  Kinda reminds me of The Pass a smidge, actually…. That's a good thing!  YAY!  Shake my booooo-tay!
I KNOW I did this one already.  5 Stars. Beautiful. Stunning.  I'm finally a Sufjan fan.
The War On Drugs – Comin Through
Last one!  Sufjan's a tough act to follow… Ooo… I like this!!  Sounds like Grant Lee Buffalo with a bit more push, more oomph!  Nice!!!
Woo! That was fun!!! We haven't had that much tsuruloosie success in a long time!!!  Either I'm hip or you guys are just finally in my happy place — what took you?  Let's do it again sometimes? Until then, GO TAKE SOME FAN SIGN PHOTOS!!!!!
Cheers!
Tsuru
P.S.  Zach, my friend, I know you were just making fun of the fact that no one can spell "tsururadio"…. I love you, man!  I wish you nothing but success with WLFY and The Pass!