Photography by Samantha…
You read the title right, "Weird Al" mother fucking Yankovic. Yep. "Weird Al" Yankovic changed my life, musically, forever. The album that did it? In 3-D, of course…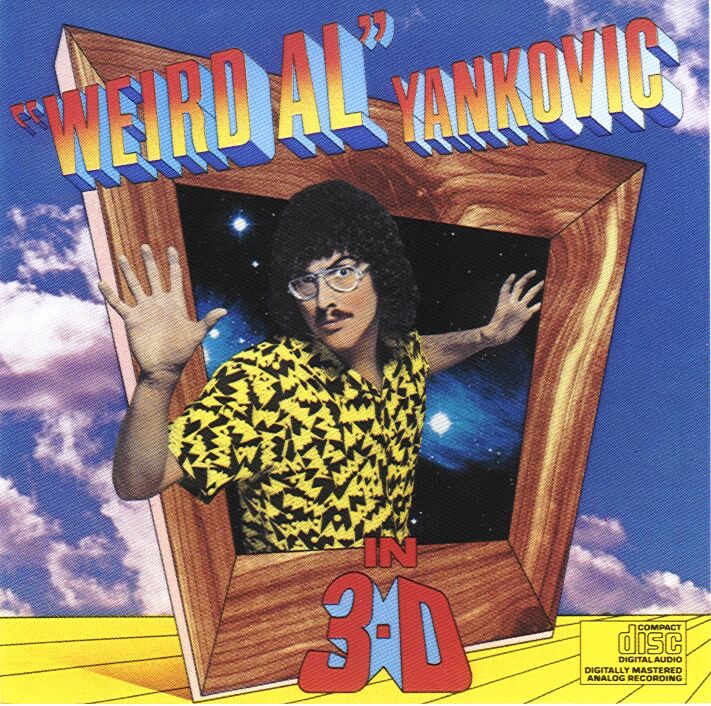 Let us back up a tiny speckle to a 5 year old Tsuru, just a wee-little crane with a tiny baby sister and yep, you guessed it, my parents split up. From 1978 on it would be a series of moving back & forth & back & forth & etc, etc, (until, by the time I was 18 and moving out on my own, I had lived in well over 20 homes, almost all in Tampa). During the first batch of that time, my music was driven by who I was living with…. With mom, it was black gospel, R&B, and soul, tons of Motown, and your basic top 40 radio, from which I liked various songs and groups and whatever. With my dad it was his records & 8-tracks of Neil Diamond & Barry Manilow and I'm sure a few other things. My grandparents (who I lived with for a while), it was old country crooners that they'd play records while we'd eat dinner…. So it was that, move here, listen to that, move there, listen to this, move again, listen to that, over and over and over until 1984…
1984 (and probably some of 1983 I'm sure, who knows) I started having MY music! Suddenly I wanted the stereo turned up when Duran Duran was on or if that song "Footloose" by Kenny Loggins was played (on the hour, EVERY hour, right here on Q105!) I'm sure there were others, but those are the two that come to mind when recollecting.
Then one day, god knows how, lard knows when, & fuck if I know where, I heard "Eat It". It may have been MTV (my dad had cable) or just the radio, no clue, but I loved it. It was funny & fun, it was perfect! My love of really bad puns & stupid humour was sonicified! I was living with my dad and remember after having to go to bed secretly playing my little radio by the bed for the Top 5 at 9, knowing that "Eat It" would get played, because every night it at least placed!
We moved back to my mom's and I had the cassette. My friend Denny & I would be at home during that summer vacation while mom was working a diner out in St. Pete playing this album over and over, each taking parts (guitar and backing vocals or lead or drums or..) playing it over and over!
And over and over.
When getting ready to do this post, I curiously hopped over to allmusic.com's review on it that was linked up in the wiki page. Check this out (oh, the ironing):
"There is no chance of pleasing 11 year olds with any of the originals, despite the fact that many critics feel this is the level of mind Yankovic is aiming at when he gets in the songwriting mode. It is not that their age estimate is too high, either. No children of any age have expressed much interest in the original material here."
I was 11. I loved every damn song. Whether I got it or not didn't matter a bit. This album was "me".
Listening now, I'm surprised how much I still enjoy it! Yeah, it's dated, but what strikes me most is how fun it is (see: all the parodies), how Rocky Horror theatrical it can be (see: "Midnight Star" & "Nature Trail To Hell"), and how absolutely genius it can be (see: "Polka on 45").
I had no idea then, but I think this is what started it, this was the first fork in the road that, while "mainstream" in one since (I mean, it DID have top 40 hits), when you consider how much I embraced it as a real & real album, not just as a comedy album that got old to everyone else, how I would dig back to his first album from there, and grab any other album he came out with after until I finally found other loves… Yeah, this was the first one that sent me down the road juuuust off the beaten path. Just a little…
Different.
1984… really? 11 years old? That was a long time ago. Running around the neighborhood on my yellow dirt bike, having "skid contests" and doing catwalks, latch-key kid, poor as a mother fucker, playing video games & billiard at the biker bar down the block because it was close and they didn't mind two kids wasting their quarters in their machines.
Denny would develop a full-fledged obsession on Duran Duran that can only be described as homo-erotic (he would buy the teeny-bopper mags because they were in them).
It wouldn't be too long before Jesus would tell my dad that it was time for us to go live with him again and *POOF* off we went (much to my mom's surprise). But back then, I had two things…. My sis & my Weird Al.
Crazy, eh?
1 "Eat It"
2 "Midnight Star"
3 "The Brady Bunch"
4 "Buy Me a Condo"
5 "I Lost on Jeopardy"
6 "Polkas on 45"
7 "Mr. Popeil"
8 "King of Suede"
9 "That Boy Could Dance"
10 "Theme from Rocky XIII (The Rye or the Kaiser)" 3:37
11 "Nature Trail to Hell"
Ugh… some of the videos that weren't non-embeddable. Really… why do they do that???
Cheers,
Tsuru