Photography by me! WHEEE!
Hey O! How was your weekend? Epic, I hope? I'm not sure of the full level of "epicness" of this past weekend but it was definitely an adventure! Photoshoots, arts & craft time, movies (ZOMBIELAND!!!), and, of course, a bike ride…. Or more specifically, an AMAZING bike ride!
Saturday, I pulled my long time cycling partner out of winter hibernation (I mean, it WAS going to be in the 40s!) and we tested out the 50 mile route of TSURURADIO's SUPER AWESOME NO-FRILLS BIKE RIDE for BREAST CANCER on APRIL 3rd at PARK OF ROSES in COLUMBUS, OH!!!!
*phew* that's a mouthful, eh?
It was amazing. The route is pretty, well, epic in it's own way. It covers the gamut, it's got a bike path start to get you all warmed up, a disgusting yet short climb into a subdivision, which we ride through for a bit then we head out to a main road up through Powell into Delaware (OH, not the state). It's a long up and down straight stretch that will break down the minds of weaker men & women (the headwind heading north kept my legs working, hard).
After the first break at a Speedway (glamorous, eh), we soon start heading west. It's a bit of traffic, but stick to the right and you'll be fine. It pays off, as soon we start heading south and it was just beautiful. Country-style roads wide open until you get to Butts (which, though we didn't HAVE to take it, we totally HAD to take it) and that takes you to Riverside which is exactly that, a beautiful stretch along Olentangy River, soon it's back to work east and finally back South until, eventually, you get back to the subdivision, down the steep hill and back onto the bike path.
The only issue I see is if you are not used to riding near cars, you may be a little nervous, and we may need to cut the 25 mile down to 20 because a 25 mile route is become convoluted to get those extra 5 in…
Epic…
I like it. Alot. I know Tuck liked it. You can tell when at, say, mile 40 or so, you look over and he's huffin' & puffin', kickin' his own ass (which, in turn, results in me kickin' MY ass to keep up), but there's a ridiculous grin on his face! I had one on too. I'm sure we looked rather dorktastic! ha!
All-in-all, with the ride up to Tuck's, and the ride to Park of Roses, then the actual ride-ride, then the ride back? 62 beautiful miles aka a Canadian Century (100 kilometers). Spring has sprung, my friends, even if it snows again, doesn't matter, Spring has mother-fuckin' SPRUNG! So happy, I could do a wheelie!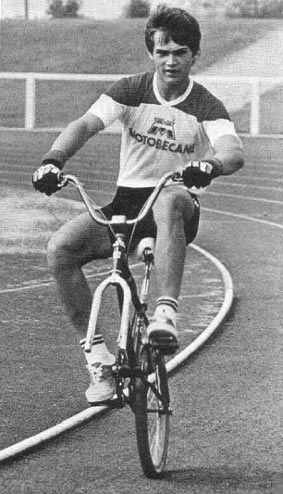 We'll be putting the official routes on the main ride page & on the Facebook Event page soon, so keep an eye!!!
Okay… Speaking of epic, my new favourite word, I was genuinely surprised and amazed at the pure epicness of Junior by Kaki King!
Holy crap!
Apparently this is Kaki's 5th studio album?? Meaning I've been living in the dark! Ugh, what the fuck? Oh well, I guess it means there are 4 other albums I need to go check out, stat! but first, Junior. I don't know if this her usual sound or now, I don't know if this is some kind of evolution or return to roots or blah blah blah, but what I got is an amazing album that seems to blend that over-arching post-rock thing thing with female-led smart-pop/rock/folk.
It's like Laura Veirs teamed up with Do Make Say Think or something?? Seriously. Her voice is reminiscent of Veirs as well, only compounding on to the analogy or metaphor or comparison or whatever the hell I wrote up there.
Whatever you call it, only one word can describe it… C'mon, say it with me now. On the count of 3. One… Twoooo….. Three!
EPIC!
1. The Betrayer
2. Spit It Back in My Mouth
3. Everything Has an End, Even Sadness
4. Falling Day
5. The Hoopers of Hudspeth
6. My Nerves that Committed Suicide
7. Communist Friends
8. Hallucinations from My Poisonous German Streets
9. Death Head
10. Sloan Shore
11. Sunnyside
Some Kaki King lovins: Official | Myspace | Label
Cheers,
Tsuru