It's been a while since we took a gander at all the

hyped musical goodness floating around the intertubes

, so let's spend a few minutes "catching up" and seeing "what's what"!

As per usual, we will eschew any scathing commentary of old for a simple wheelie rating (out of 5), much like 1983/84 world record breaker Stephane Colley from Paris, France who, at 18 years old, wheelied 22.53 miles (36.25km) according to the French Association of BMX (Association Francaise de Bi-Crossing). Apparently it took him 2 hours, 29 minutes to complete the feat! Hot diggity!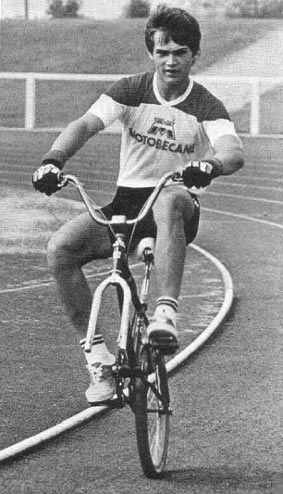 Though, not to belittle the feat but, no front wheel?? Really? Isn't that kinda like just riding a unicycle for 22 1/2 miles? Anyway & regardless, let's let's pull up our fork and get on with it! Have a warm & safe & fun weekend!
Vic Chesnutt – Flirted With You All My Life
Rest in peace, Vic. Damn shame.
The Knife (In Collaboration with Mt. Sims and Planningtorock) – Colouring Of Pigeons

wow!

best dance track I've heard in lard knows how long!

Hot damn! Nice collection of tracks today, eh? Good job bloggy-land!! YAY!!!
Cheers,

Tsuru
Tsuru And The Bride | Etsy | Society | Facebook | Twitter | Tumblr