Photography by introvertevent

I just saw something disturbing. I'm off work today with my family in town but while everyone is sleeping, went out for a nice 33 mile ride (had a flat in the first mile, hooray, but after that, smooth sailing), really attacked the 11% gradient hill at the end of the path, 4 times! WOOT!

Anywho… making my way back, I was leaving the path to hit the final road home when I came upon a giant teddy bear of a man on hybrid comfort bike ONLY wearing bibs. That's right my friends! A dude who kinda looked a lot like this..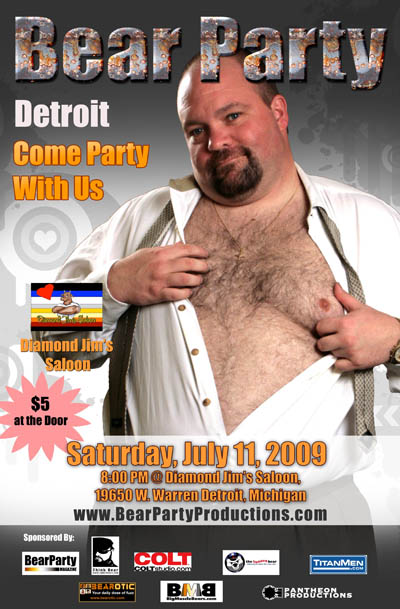 Wearing nothing but this..

Yeah, "oof" indeed… It's one of those rare things you see, like the bearded lady, or lobster boy, that you know you shouldn't really stare, but you can't help it! Who knows when the Bibbed Riding Bear will cross your path again! Hell, I'd pay a nickel to see that at the county fair!

Okay, burned retinas aside though, it was a fantastic ride, not only did I rock that hill (once again, woot woot!), I got a chance to really absorb the latest effort from our No. 2 band of 2008, Noah & The Whale and The First Days Of Spring…

Wow.

I LOVED Peaceful, The World Lays Me Down, LOVED it. It's over-arching songs about love lost combined with dry quirky folk/bluegrass/country-pop melodies just burrowed into my ears and mind, but follow-ups are tough, bands must evolve, grow, change, or die. When "The First Days Of Spring" sprung onto the intertubals love systems of informational supernicity, I knew something special was afoot. The sound sounded deeper, resonating, and matching the darkness of the lyrics like Peaceful refused to do.

I was unawares of the tracklisting (and remained blissfully so) until the leak over the weekend, I didn't want to know if "First Days" was a classic slow 3rd/4th song or a finale or what…. Turns out, it's the lead-off track! Holy shitake mushrooms! The tone set is immediate, this is NOT Peaceful II, this is something completely different.

What I gathered from "First Days" holds on the whole album, depth, melody-wise, sonically, everything, pours & oozes out of this album. This time, the music MATCHES the lyrics, we leave the Wes Anderson aesthetic behind to make a breath-taking album that is not ironic, but real, full, rich, and, well, stunning.

Apparently, this is a soundtrack to a film, a film I kinda don't want to see now. I've already created a fantastic swirl of images in my mind just listening, I don't want some projection to take any of that away! Oh man…. But you know, I'll see it anyway. ha!

Alright, okay, there's really not much else to say, except, enjoy!

01. The First Days Of Spring
02. Our Window
03. I Have Nothing
04. My Broken Heart
05. Instrumental II
06. Love Of An Orchestra
07. Instrumental II
08. Stranger
09. Blue Skies

This is a song for anyone
with a broken heart
This is a song for anyone
who can't get out of bed
I'll do anything to be happy…

10. Slow Glass
11. My Door Is Always Open

Just stunning, eh? Now, go show Noah & The Whale all your love here, here, and here…

Oh, one last thing, over the weekend, the good folks at The Hype Machine decided it was time to join forces with your friends at TSURURADIO! It's very exciting as it brings a whole new group of readers to our odd little world of music, art, and bits of cycling. So, let me be the first to say "Welcome" to the all the Hype Machine users! Hope you enjoy your visit and we all hope to see you around here again real soon….

So, until then, cheers,

Tsuru
F A C E B O O K
O
U R S O C I E T Y
& yes, even Twitter…